RM 1 Tube Tester from Beck Elektroakustik - Helmut Beck is back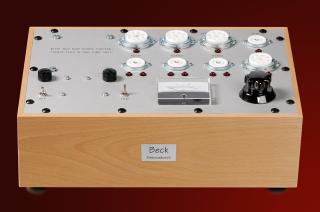 Helmut Beck, the very diligent developer of high fidelity loudspeakers and tube amplifiers from Hammelburg is back: with a Tube Tester. Yes, I have been waiting for such an instrument for a long time. Again and again I doubted - and I bet I am not the only one - whether my tubes still work tonally well after a long time of use.
The RM 1 Tube Tester is simple to handle, permits because of its construction easy operation, even for less experienced tube owners, so that a reliable measurement can be done by almost everyone. I seriously recommend the RM 1 especially to dealers, who like to offer their customers a comprehensive service.
In series, the RM 1 is laid out for the usual double triodes ECC81, ECC82, ECC83, 6SL7-GT as well as the power pentodes EL34, 6550, KT66, KT88, 6L6-GC, 5881, 6V6-GT, EL84. However, Helmut Beck also takes into account all other customer's wishes. Provided that, for example, somebody needs a measuring base for 300B types divergent from the standard allocation, just give the manufacturer a call and the socket will be laid out accordingly. The first-class processing and the choice of narrow-tolerated components only make such a precise measurement possible and they are "Beck typical".
Put the pentode into the ceramic socket while the tester is switched off, then turn the power switch to "on". The heating-up phase lasts approximately 2-3 minutes. Select the correct socket by the rotary switch in order to read off the current value. For double triodes there follows a second, also very simple measuring procedure. According to the provides conversion table the actual values can be determined. Furthermore the handling is detailed described in the operating instructions.
Times of complex measuring work have passed and also times of gnawing doubts! Helmut Beck is back with a product, which really is needed by the high-end-world as far as I'm concerned. The RM1: smart designed, posh in it's appearance and simple to operate! What else do you want?