Tube Tester from Beck Elektroakustik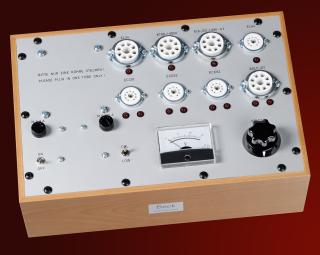 Sounds like a fairy tail that just the loudspeaker manufacturer Beck turns up with a Tube Tester!
But there it is, the "fable animal", right on the table. And it presents itself as a valuable instrument for measuring and checking tubes which are mainly used in the high fidelity branch.
Furthermore, the RM 1, containing all relevant ceramic tube sockets, is able to investigate the actually emitted plate current with defined operating voltages according tube manufacturer's data sheets.
The measurement is intended by EL34, 6550, KT66, KT88, 6L6-GC, 5881, 6V6-GT, EL84 as well as the double triodes ECC81, ECC82, ECC83 and 6SL7-GT. Of course it is also possible, upon request, to order a RM 1 version laid out for other tube types; for instance for power triodes like the 300B.
For "high-end-fans" it's worthwhile to mention, that the RM 1 is bedded into a genuine wooden housing of beech and that it is supplied by a reliable, generously dimensioned and stabilized power unit. The RM 1 costs approximately 600 Euro.